Different results by racial origin mean that a test is racially discriminatory, and hence, unconstitutional, says Ontario Court.
Quote:
"Ontario introduced the Math Proficiency Test (MPT) as part of a package of provincial strategies to improve student math skills after test scores began to dip. As of last year, the MPT was a requirement for all new teacher candidates who want to teach in publicly-funded schools.
The Ontario Teacher Candidates' Council requested a judicial review, arguing the test had a disproportionately negative effect on racialized candidates.
Recently, the Ontario Superior Court of Justice Divisional Court found the requirement infringes on the Canadian Charter of Rights and Freedoms. The court's Dec. 17 decision noted that racialized teachers were under-represented in Ontario and that there were alternatives to the MPT.
"Racialized students benefit from being taught by racialized teachers," the court decision stated. "The deleterious effects of the MPT on racialized teacher candidates who have been unsuccessful in the test outweighs its benefits."
Ottawa teacher Bella Lewkowicz, one of the founders of the Ontario Teacher Candidates' Council, called the decision "a huge victory."
"It's not often that educators can claim victory over the Ministry of Education," she said.
The province started officially administering the test last May. The demographic data shows disparities in success rates, the court heard. Candidates who identify as Indigenous and Black have success rates 20 per cent lower than white candidates."
_________________________
How soon will airplanes fall out of the air because people to stupid to fly them or design them are hired because they are "racialized". Wait for it. Five years? Ten years?
____________________________________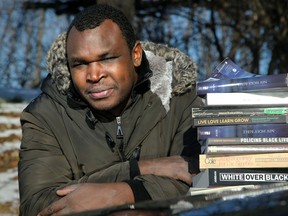 Richard Atimniraye Nyelade, who has his master's and bachelor's degrees from his native Cameroon and did another master's degree in Norway as well before coming to Canada in 2018, had no problems with the mathematics content questions, but didn't succeed on the pedagogy portion of the test. PHOTO BY JULIE OLIVER /Postmedia