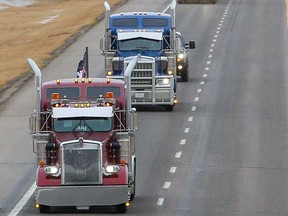 The calumny has begun and will not stop. The only genuine Canadian protest/rebellion since the Dirty Thirties will be attacked for being right wing, white, racist, pro-Trump –  you name it.
From the article:
"Still others, with more extreme, far-right views, have latched onto the protest. One online video includes a man expressing hope the rally will turn into the Canadian equivalent of the Jan. 6, 2021 riot at the U.S. Capitol by supporters of former president Donald Trump."
After I had published this article, the Post related Trudeau and his dwarf Syrian transport minister said:
"Speaking at a news conference Wednesday afternoon, Prime Minister Justin Trudeau said there was a "small fringe minority who are on the way to Ottawa who are holding unacceptable views."
"What we are hearing from some people associated with this convoy is completely unacceptable," he added.
Transport Minister Omar Alghabra said he is "concerned about the small number of far-right, vocal opposition that is polluting much of our political debate."
"Alghabra was born in Al-Khobar, Saudi Arabia to a Syrian family. His father, an architect, moved their family to Saudi Arabia in 1968.[4] Alghabra has stated that he remembers living a sheltered life there, attending private school and visiting Syria in the summer.[5] "
Polluting? Or just not agreeing tot eh Narrative?
As usual Rex Murphy sees things in their true light. 
"A true protest, one that's grounded in actual circumstances, that arises from long-term government overreach — grave impingement on the freedoms of a majority of citizens — one that emerges from discontent long discounted and ignored, built around the cardinal idea of pursuing a legitimate livelihood, well, that's rare. That's what we're seeing with the truckers."